/

UNI- AND BI -DIRECTIONAL
What do the ICONS mean?
Basically: Some Ports, Connectors, Cables and Adapters, are a one way signal connection. Other go both ways. It's all about Uni- and Bi-Directional.



Icons on our packaging
What Direction? About Uni- and Bi-DirectionalWhat do the arrows on our packaging mean?
They indicate whether the adapter, cable or port can send the signal in both directions. If the signal can go through both directions, it doesn't matter which end you plug in the connector, the adapter, cable, or port is Bidirectional, if there is need of signal conversion, for example convert a DisplayPort™ signal to HDMI™ signal.
Then some adapters, cables or the ports contain a chip or processor that actively decodes the input signal to another output signal. This will be mostly Unidirectional. So, for example, the DisplayPort™ signal can be converted to HDMI™ signal but not otherwise. That requires a another process conversion.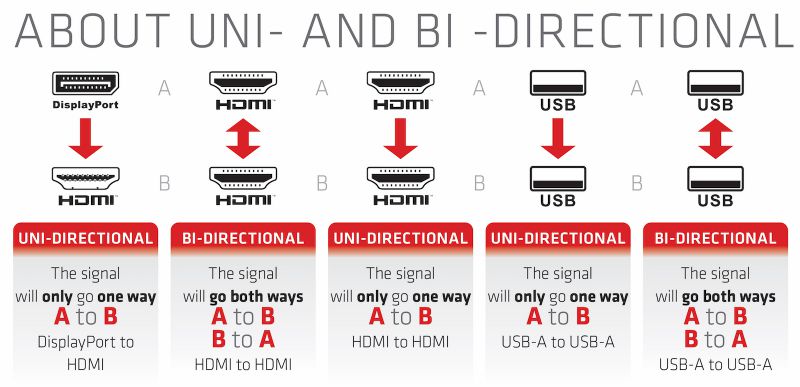 Example 1
The CAC-1085: This Adapter converts a DisplayPort™ signal into a HDMI™ signal. Inside the unit there is a hardware chip that converts actively the DisplayPort™ signal in a HDMI™ signal. The hardware inside can only convert One Way - UNI-Directional. Some adapters need external power. Others receive it through the cable port connection.

Example 2
The CAC-1390: HDMI 2.0 UHD Active Optical Cable HDR 4K 60Hz M/M 30m/98.42ft This cable features a built-in booster circuit that is self-powered through the HDMI ports, allowing you to connect your HDMI-enabled devices at a distance of up to 30 meters with no signal loss. Inside the "Source Plug" there is a hardware/processor that converts the digital signal into an Optical signal. At the other end the optical signal is converted back into a digital signal. The benefit of AOC (Active Optical Cable) is the distance and speed, without data loss.

Example 3
Basic (extension) cables work both ways. There is no extra hardware/processor built in. They're just made for transporting plain data and do not change or convert the signal. In this example we show the CAC-1523 USB 3.1 Type-C to Type-A Cable 10Gbps PD 60W M/M 1m/3.28ft and the and the CAC-2068 DisplayPort 1.4 HBR3 Cable M/M 2m/6.56ft. cables.

Example 4
The CAC-1402: USB 3.2 GEN1 Active Repeater Cable 10m/ 32.8 ft M/F 28AWG This cable features a built-in booster circuit that is external-powered through an USB power source, allowing you to connect your USB-A devices at distances of up to 10 meters with no signal loss. Inside the "Active Repeater" units, there is a hardware/processor that boost the analog signal. Without loss of Data Transfer Speed. The CAC-1402 supports data transfer rates up to 5Gbps over the full length of the cable.

Box Examples
Left:

HDMI signal converted to a USB-C port

Right:

HDMI to HDMI - straight signal no conversion.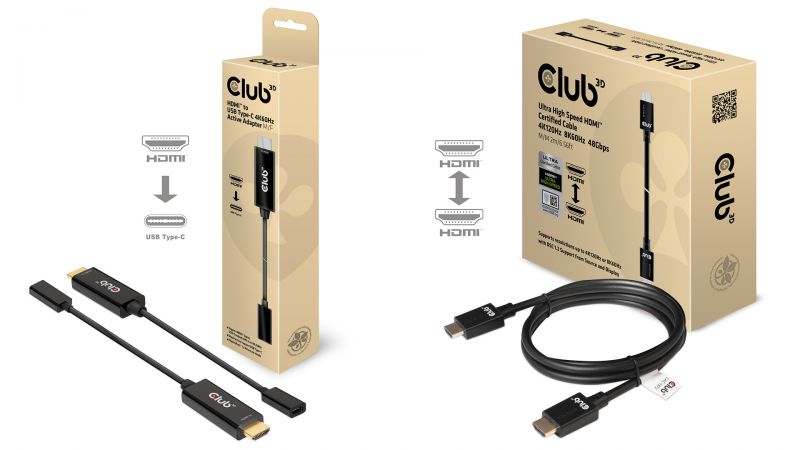 Need Help?
So now you know why to look at the connectors when installing a cable, when its an Active cable product, the connectors are clearly marked with either Input/Output or Source/Destination. When in doubt, please contact your nearest Club 3D representative for assistance or mail us at [email protected]


Please refer to a full overview of our Legacy Terms and Conditions on www.club-3d.com.
To Top