What is HDMI Technology?
The High Definition Multimedia Interface (HDMI) is a digital connectivity standard capable of carrying the highest quality, uncompressed high - definition digital video content, up to 8 separate channels of uncompressed digital audio and device command controls all on a single cable.
HDMI was created as a forward looking specification with the ability to be upgraded as further market requirements became apparent. One of the advantages of HDMI is that it is an evolving standard that responds to market requirements and keeps pace with the latest technological innovations. This is a benefit to manufacturers, content providers and consumers as HDMI continues to deliver the highest quality consumer experience. As such the specification has seen several major enhancements.

HDMI Versions
HDMI 1.0 - Initial Specification. Support bandwidth to 4.95Gpbs

HDMI 1.1 - Added support for DVD Audio .
HDMI1.2 - Added support for SACD Audio. Permitted PC Applications to Use only RGB color Space. Supported low voltage (AC Coupled Sources ) in PCs
HDMI 1.3 - Increases bandwidth to 10.2 Gbps ( 340Mhz ). Offers support for 16 bit Color, increases refresh rates ( ex. 120Hz ), support for 144 p /WQXGA Resolutions. Supports xvYCC Color Space Standard. Adds Features to automatically correct audio video synchronization ( lip Sync ) . Adds mini connector. Adds support for Dolby True HD and DTS HD Master Audio Standards
HDMI 1.4 - Adds and HDMI Ethernet Channel (HEC) which allows for a 100Mbit/s Ethernet Connection between to HDMI Connected Devices so they can share an internet connection, and introduces an
audio return channel (ARC) 3D over HDMI, a new Micro HDMI Connector, expanded set of color spaces with the addition of sYCC601 , Adobe RGB and Adobe YCC601 and an Automotive Connection System. It also defines several stereoscopic 3D formats including field alternative (interlaced), frame packing. With the version 1.4b released in October 2011 it adds the ability to carry 3D 1080p video at 120Hz allowing frame packing 3D format at 1080p60 per eye (120Hz total )
HDMI 2.0 AKA Premium High Speed - Increases bandwidth to 18 Gbps ( 594Mhz ) the increases comes from the maximum throughput from 3.4 Gbps to 6 Gbps . 2.0a added support for High Dynamic Range ( HDR ) video with static metadata. and 2.0b which extends support for HDR.
HDMI 2.1 AKA Ultra High Speed, announced on January 2017, adds support for Dynamic HDR which is dynamic metadata that allows for changes on a scene by scene or frame by frame basis. Also added suportfor eARC. Increases bandwidth to 48 Gbps, The increase of bandwidth is achieved with a maximum throughput from 6 Gbps to 12 Gbps and from 3 lanes to 4 lanes, allowing for resolutions up to 4K120Hz or 8K60Hz.

Why HDMI 2.1 ?
HDMI Version History
Any digital interface is ultimately limited by bandwidth, or speed of the connection. In the case of HDMI 1.4 that upper boundary is the 330Mhz data rate per channel (for a total of 10.2Gb/s) at which the interface runs.
This maximum overall data rate of 10.2 Gigabits per second (Gb/s) with its maximum clock rate of 330Mhz is enough to transport Full HD (1920*1080) and Wide UXGA (1920*1080) Images.
Support here is up to 1080p at 60Hz at 4:4:4 (RGB) or 2160p at 30Hz at 4:4:4 (RGB) 8bit only or 2160p at 60Hz at 4:2:0.
In order to accommodate faster refresh rates HDMI 2.0 was introduced with the overall data rate through the interface to 18 Gb/s and a clock rate of 594Mhz. This specification is able to transport up to 2160p at 60Hz at 4:4:4 (RGB) 8bit only and it supports HDR specifications. In addition HDMI 2.0 supports USB Type C Alt Mode.
HDMI 2.0b which is backwards compatible with earlier versions of HDMI specification is an update of the HDMI2.0a specification. It also enables key enhancements to support market requirements for enhancing the consumer video and audio experience. The key advanced feature enabled by HDMI 2.0b is - it enables transmission of High Dynamic Range (HDR) video in the form of HLG (Hybrid Log Gamma)
The next generation HDMI 2.1 increases the overall data rate to 48Gb/s supporting resolutions of up to 4K120Hz or 8K60Hz and is able to additionally support up to 16 Bit colors and supports DSC (Display Stream Compression) for greater efficiency. This is called the Ultra HighSpeed Cable and can be checked by the apropriate HDMI Certification app.

Why is a certified HDMI Cable Important?
The Ultra High Speed HDMI Cable Certification Program is the new program for the creators of HDMI Technology. It encompasses additional and enhanced cable testing as well as an authentication and verification program.

Cables are tested to ensure they support the full 48Gbps bandwidth from the HDMI 2.1 specification plus an EMI test to ensure cables minimize interference with wireless signals.
Only Ultra High Speed HDMI Cables are allowed to Display and promote the official Premium HDMI Cable Authentication Label.
Anyone can use the HDMI smartphone scanning app to verify the cable's certification and product information.
Cables certified under this program ensure installations are ready for today's 4K120Hz/UltraHD environment, and are future-proofed for the performance needed when equipment is upgraded or replaced.
For more information please visit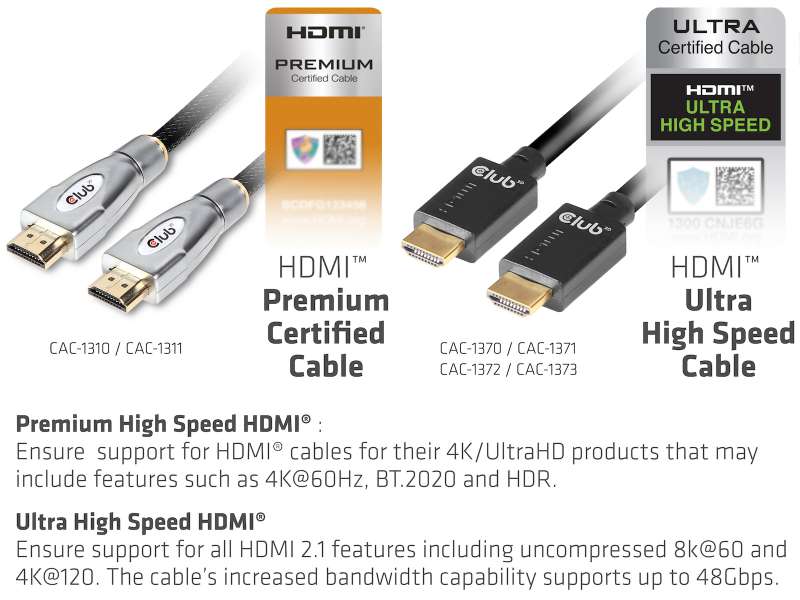 HDMI Cable Certification App
HDMI Cable Certification App enables consumers to authenticate HDMI products tagged with the HDMI Unique Label to get the assurance that they can fully enjoy the complete 4K120Hz / 8K60Hz /UltraHD experience when viewing 4K /8K content.
You can download the "HDMI Cable Certification APP" at: Google Play and in the Apple App Store

For more information please visit www.HDMI.org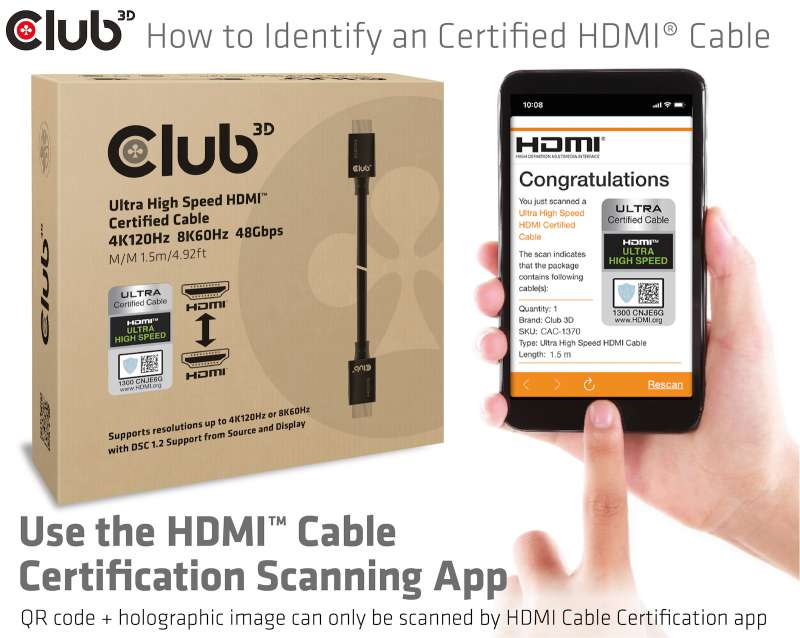 HDR Table
Resolution / Refresh Rate
Chroma Subsampeling
Bit Depth
HDR Format
Data Rate (Gbps)
HDMI/DP Version Required
3840x2160@30Hz
4:2:0
10
HDR10
5.57
DP1.2 HDMI 2.0
12
Dolby Vision
6.68
DP1.2 HDMI 2.0
4:2:2
10
HDR10
7.42
DP1.2 HDMI 2.0
12
Dolby Vision
8.91
DP1.2 HDMI 2.0
4:4:4
10
HDR10
11.13
DP1.2 HDMI 2.0
12
Dolby Vision
13.37
DP1.2 HDMI 2.0
3840x2160@60Hz
4:2:0
10
HDR10
11.13
DP1.2 HDMI 2.0
12
Dolby Vision
13.37
DP1.2 HDMI 2.0
4:2:2
10
HDR10
14.85
DP1.2 HDMI 2.0
12
Dolby Vision
17.82
DP1.2 HDMI 2.0
4:4:4
10
HDR10
22.28
DP1.4 HDMI 2.1
12
Dolby Vision
26.73
DP1.4 HDMI 2.1

Please refer to a full overview of our Legacy Terms and Conditions on www.club-3d.com.
To Top